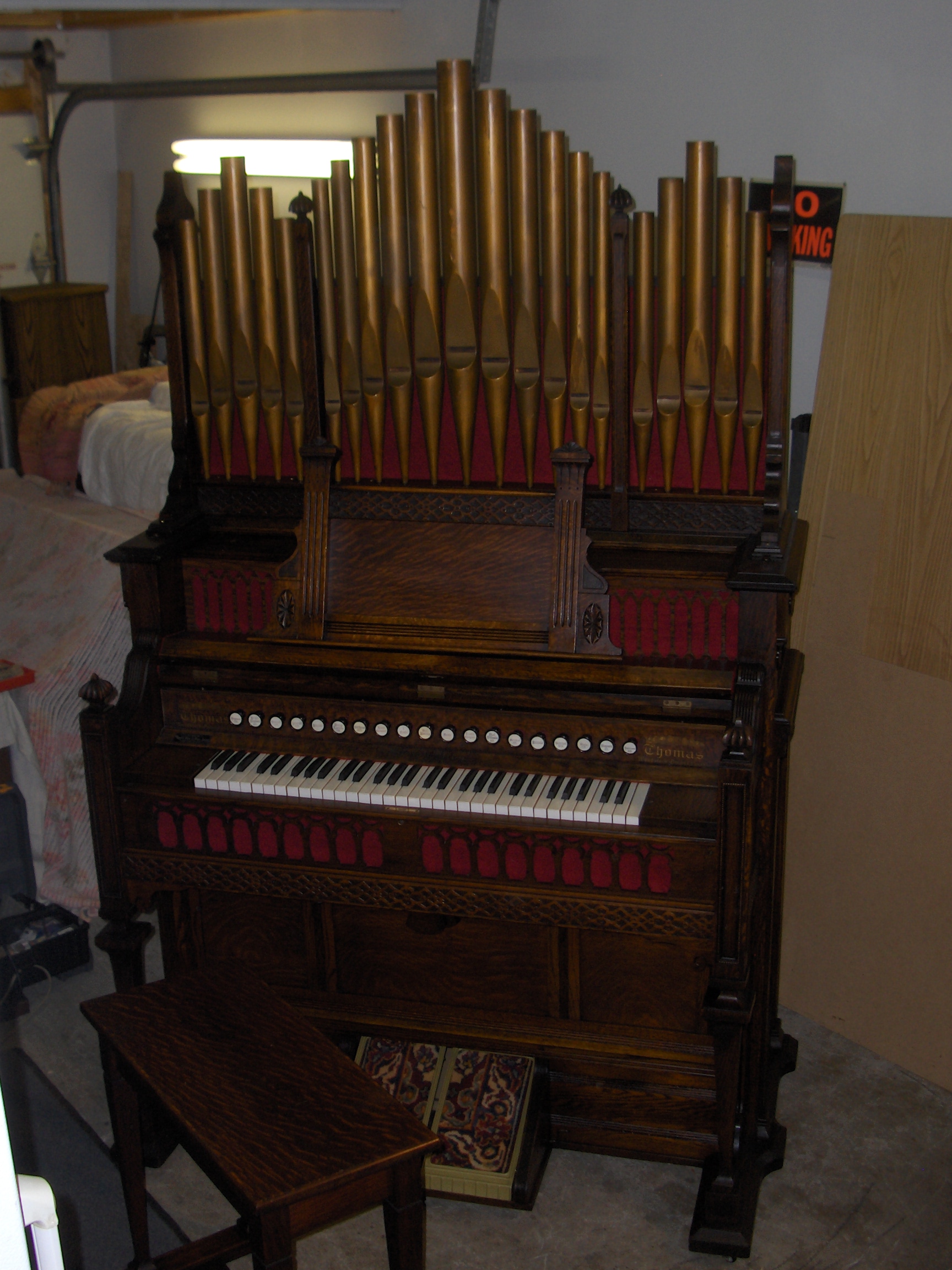 In fall of 2009 our firm was contacted by the Hon. Jack Layton who became leader of the official opposition in the Canadian House of Commons in the 2011 federal election. Mr Layton died after a valiant fight with cancer August 22, 2011 The Layton family was involved in the piano and organ business in distribution, manufacturer of pianos and pump or reed organs in the 1800's in Montreal Quebec.
The Layton family organ was manufactured by the Thomas Organ Company in Woodstock Ontario and sold by the Layton Brothers Piano and Organ Showrooms in Montreal. The Layton family organ was called "The Symphony". This model was a large single manual reed organ with large suction bellows, 412 reeds, qualifying tubes or pipes to produce 19 stops.
The organ featured in addition to pump treadles a side lever for pumping by an assistant. The organ was designed for larger chapel and smaller church settings. The organ with the pipe top weighs over 600 Ibs. The organ is similar in construction to its bigger brother the tracker action pipe organ.
Professional Restorations Are Worth It
Quality piano tuning, rebuilding, regulation, reconditioning and repairs
Viscount Church Organs Distributor
Wicks Pipe Organ Sales
Piano and organ sales & consultation
Custom piano and organ finishing
Piano and organ key recovering and repair shop
Pipe, reed and electronic organ tuning and repair
Pump organ restoration and repair
Piano humidity controls
Sound systems specializing in church installations featuring Allen Audio Products
Hallman and older church organs updated
Specializing in sales of reconditioned high quality church organs
Schmidt Classique Organ sound systems
For more information on our services, give us a call at 519-570-3280 or 1-888-870-8863 (Ontario)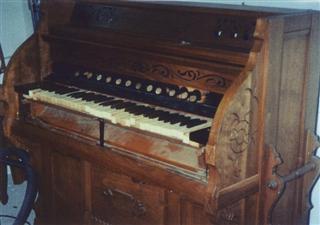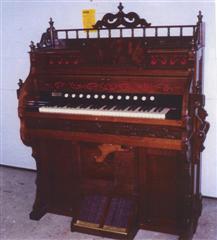 Pump & Reed Organs
Schmidt Piano and Organ Service specialize in complete restorations, refinishing and rebuilding of antique pump organs, reed organs, melodeons, harmoniums, and American organs. We have restored hundreds of these heirloom and historic instruments. We have restored both pressure and suction organs in parlour, chapel or larger church organ styles. Our pump organ restoration customers come from all over Canada and North America. We are a complete in house restoration facility. We offer complete action rebuilding, re-leathering, re-felting, bellows rebuilding and recovering using the finest imported leathers, felts and woven felts. We have our own in house organ keyboard recovering and rebuilding shop. We specialize in tuning pump organ reeds whether standard or Philharmonic styles with precision craftsmanship and years of experience. Careful passionate detail is given to each instrument as if it were our very own!
Schmidt Piano and Organ Service offer a complete custom refinishing and woodworking facilities. We can remanufacture a variety of furniture components and organ parts. Clients consult directly with our associate finisher to select a fine environmentally friendly finish for their heirloom antique pump organ.
Schmidt Piano and Organ Service have a complete in house parts department for servicing and rebuilding pump organs. Replica stools and organ benches can be provided as well as custom manufactured. We can also install custom blower installations for larger organs and church organ installations especially for remote churches. We maintain a service program for routine maintenance and offer complete repairs to reed organs, pump organs, melodeons and harmoniums.
Berlin Organs
Dominion Organs
Doherty Organs
Sherlock-Manning Organs
Goderich Organs
Bell Organs
William Bell Organs
Bell Piano and Organ Company
Bell Organ and Piano Company
Kilgor Organs
Daniel Bell Organ Company
Compensating Pipe Organ Company
Mason & Risch Organs
Vocalian Organs
R.S. Williams Organs
Thomas Piano and Organ Company
D.W. Karn Organs
S.R. Warren Organs
Woodstock Organs
Hallman Organs
Oshawa Melodeons
Clinton Organs
Estey Organs
Packard Organs
Clough & Warren Organs
Daniel F Beatty Organs
Beatty Organs
Beethoven Organs
Hamilton Organs
Mason & Hamlin Organs
Kimball Organs
Yamaha Organs
Lyon & Healey Organs
Story & Clark Organs
White Organs
Carpenter Organs
Fort Wayne Organs
Ketterman Organs
August Forester Organs
Mustel Harmoniums
Debain Harmoniums
Scheidmeyer Organs
Lindholm Harmoniums
Prince Melodeons